NPSO 2012 Annual Meeting
Merchandise for purchase / Vendors
T-shirts
This off-white, Anvil brand, organic cotton t-shirt showcases the Gray Pine or Pinus sabiniana with a classic botanic illustration that surpasses that of the Jepson Manual in scope. It details the cone, seed and fascicle of three needles characteristic of this whimsical, airy, Dr. Seuss-esque species that has made its way into Southern Oregon as far as Jackson County. The t-shirt also gives the URL's for NPSO and Plant Oregon and highlights our plant organizations! Superb design by botanical illustrator Cindy Roche.
Click the image to zoom in.
$10.00
Wine Glasses
Click an image to zoom in.
$5.00
Flower ID Brochures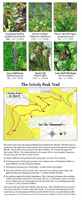 Grizzly Peak and Mount Ashland are local, easy to get to, and wonderful wildflower gazing destinations in the Rogue Valley. These brochures provide a map of the area and trails - provide travel directions, and number areas of botanical interest along the suggested route. Numerous wildflower pictures make up the remainder of the brochure - if that wildflower is found at a particular area of interest - it is numbered with the number of the destination.
Click an image to zoom in.
$1.00 each